"My Master said to me: 'I will be your friend from now through eternity, no matter whether you are on the lowest mental plane or on the highest plane of wisdom. I will be your friend even if you should err, for then you will need my friendship more than at any other time.'"

- Sri Sri Paramahansa Yogananda (from the Autobiography of a Yogi)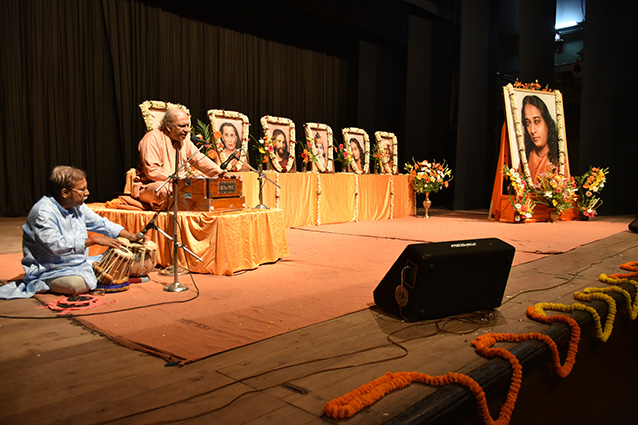 On the sacred day of Guru Purnima, devotees throughout the world follow India's tradition of paying homage to the guru. Devotees from Yogoda Satsanga Society of India (YSS) pay their respect and express gratitude to beloved Gurudeva, Sri Sri Paramahansa Yogananda through meditation and satsanga on this special occasion. Guru Purnima (July 27) and Mahavatar Babaji Smriti Divas (July 25) were celebrated through a series of special meditations conducted from July 21 to 26 across various YSS centres in and around Kolkata. The meditation sessions usually lasting from 5.30 pm to 8 pm gave local devotees a great opportunity to immerse themselves in divine communion. The meditation sessions included chanting and bhajans.
Kolkata
On Guru Purnima day (July 27, 2018), a special programme was conducted at the Kala Mandir Hall in Kolkata. It included a public talk by Swami Suddhanandaji, chanting of bhajans by Swami Amaranandaji and distribution of schoalrships by Swami Suddhanandaji and Brahmachari Achyutanandaji.
To read more, click here.
Dakshineswar
Five days of special evening long meditations drew large numbers of devotees to YSS Dakshineswar Ashram giving them an ideal way to celebrate Guru Purnima. On July 23, Swami Amaranandaji led the meditation. On July 24 and 25, Brahmachari Shreyanandaji conducted the meditation at the ashram, while on July 26, Brahmachari Swarupanandaji led the group meditation and on July 27, Brahmachari Achyutanandaji conducted the meditation.
Devotees were served prasad at the close of the meditation.
Serampore
Guru Purnima was celebrated by the Serampore devotees on July 21 from 4.30 pm to 7 pm at Sri Yukteswar Smriti Mandir. Despite heavy rains, 51 devotees enthusiastically attended the programme which was supported by the dedication of local devotee volunteers.
Brahmachari Shreyanandaji began the programme with the Yogoda technique of Energization Exercises, followed by prayer, chanting and group meditation.
Following the meditation, Brahmachariji gave a satsanga on Guru-disciple relationship. The programme was concluded by offering pushpanjali and distribution of prasad packets.
Dihika
On July 22, Brahmachari Swarupanandaji condcuted satsanga at YSS Dihika Kendra from 10 am to 1 pm.
The programme started with a few bhajans rendered beautifully by Smt. Uma Chatterjee, a lady devotee from Kulti. This was followed by aarati performed by Brahmachariji. The programme included prayer, chanting and group meditation.
The satsanga by Brahmachariji was attended by 116 persons including devotees and others, who came to participate in the celebrations of the special day of Guru Purnima. Despite heavy downpour devotees came from Asansol, Kulti, Alladi, Chittaranjan and Raniganj, apart from local Dihika attendees.
In his satsanga, Swarupanandaji elaborated upon the necessity of leading a spiritual life in preference to a mundane one. He insisted upon following the instructions of our revered Gurudeva - doing twice-daily meditations and practicing the presence of God which will help inculcate love for Him in one's heart. The audience listened with rapt attention, and many appreciated the message conveyed in the satsanga.
At the close of the programme, the particpants offered pushpanjali at the altar, and proceeded to receive prasad from Brahmachariji.
Guru langar included a meal of fried rice, chhola dal, potato and soyabean subzi, rice kheer and papad. To facilitate the early arrival of devotees from faraway places, a breakfast of chira upma had been served to around 40 devotees.
Telary
Guru Purnima celebrations at Yogoda Satsanga Dhyana Kendra — Telary were conducted by Brahamchari Achyutanandaji over two days – with a technique class and counselling on the first day, and satsanga on the second.
The celebration started from July 21 with technique class and counselling which drew several devotees. Brahmachariji encouraged more devotees to attend and make the most of the opportunity to review the Yogoda techniques of meditation as given by Gurudeva Sri Sri Paramhansa Yogananda. After the class, many of the participating devotees acknowledged its usefulness. Following the review class, Brahmachariji also counselled several devotees who came forward with their queries.
On the following day, July 22, it was raining heavily. Despite the inclement weather, several devotees and children came to attend the programme.
Approximately 150 students and devotees took prasad. Around 70 among them were children from Sunday Satsanga and coaching students, while the rest of them were volunteers, parents, guardians and other devotees.
Garpar Kendra and 4, Garpar Road
Guru Purnima and Mahavatar Babaji Smriti Divas were commemorated with special meditations at Garpar Kendra and at 4, Garpar Road.
On July 21, Swami Amaranandaji led group meditation and chanting at Garpar Kendra which was attended by 80 persons. Later, on July 25, Swamiji led a chanting session and meditation where nearly 50 persons participated in the programme.
On the evening of July 25, the commemoration of Mahavatar Babaji Smriti Divas took place at Guruji's parental house at 4, Garpar Road, Kolkata. Brahmachari Achyutanandaji led the kirtan, satsanga and meditation, which was followed by distribution of prasad.
The programme drew 200 devotees and other guests.
Payradanga
At Payradanga, group meditation was conducted by Swami Amaranandaji on July 22. Nearly 200 devotees attended the morning programme.
Nimpura
Swami Suddhanandaji led the group meditation at Nimpura on the morning of July 22. The meditation session and satsanga were attended by 125 persons.
To view images, click here.