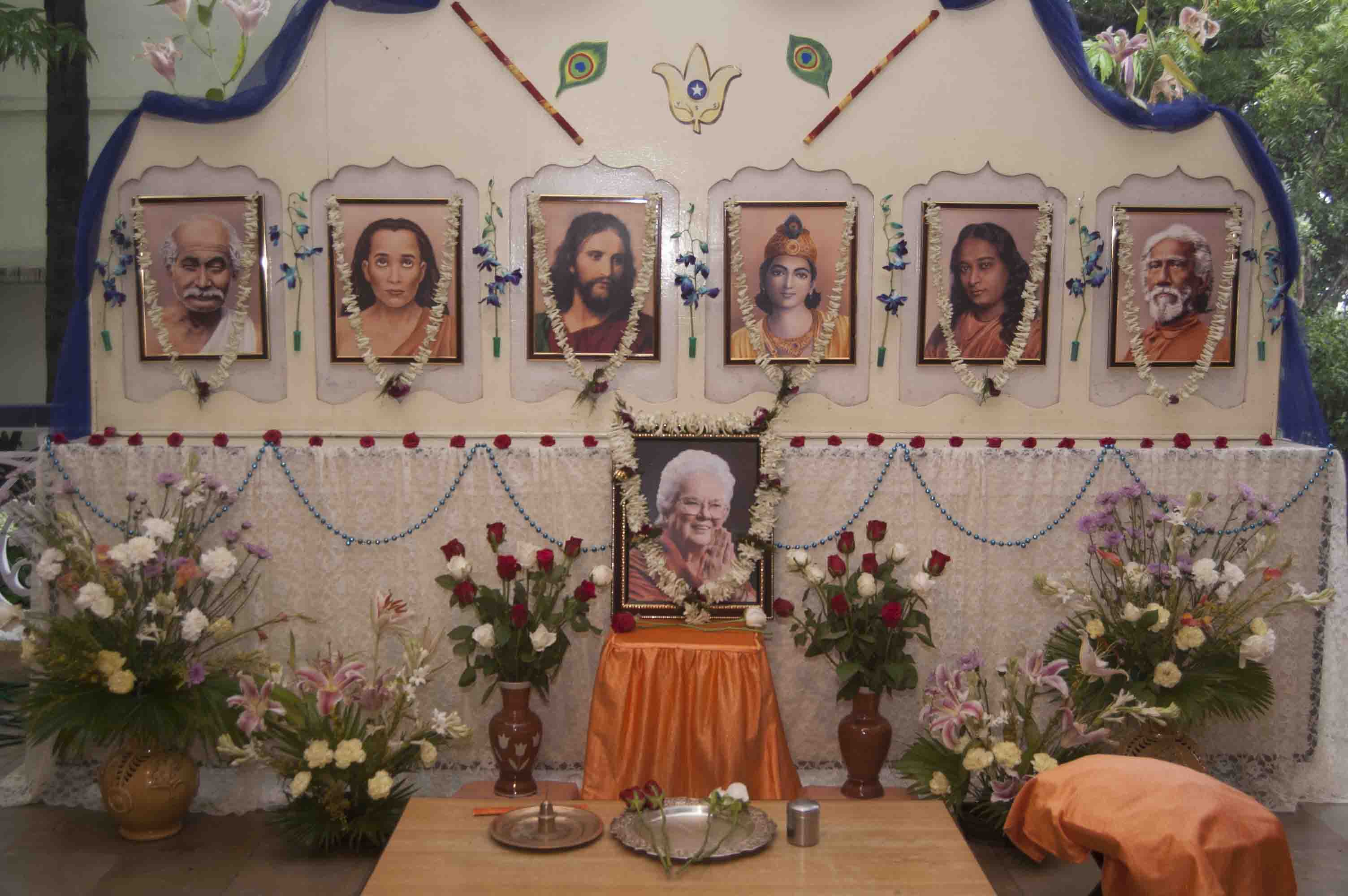 In a solemn and poignant memorial service conducted on August 13, 2017, the monastics and devotees congregated at Yogoda Satsanga Math, Dakshineswar and paid a reverential and spontaneous obeisance to the departed soul of Sri Mrinalini Mataji who consciously withdrew from her mortal frame on August 4, 2017. The memorial service was conducted by Swami Suddhanandaji.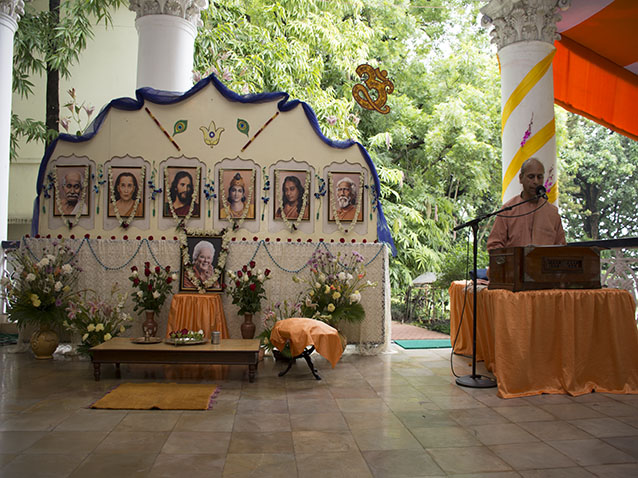 Devotees had gathered in large numbers (nearly 400) to pay tribute and offer their love and gratitude to this beloved disciple of Gurudeva whose impeccable and meticulous editing and complete attunement with Gurudeva have made it possible for countless generations yet to come to benefit immeasurably from the different publications of YSS/SRF.
After a deep and soulful meditation, Swami Suddhanandaji invited selected devotees and YSS monastics who had personally met Sri Mrinalini Mataji to recount their experiences. Br. Achyutanandaji in deep and prayerful utterances, reiterated the supreme greatness, humility and love for India ceaselessly demonstrated by Mataji and stated that the greatness of Mataji was sweetly concealed by her childlike simplicity.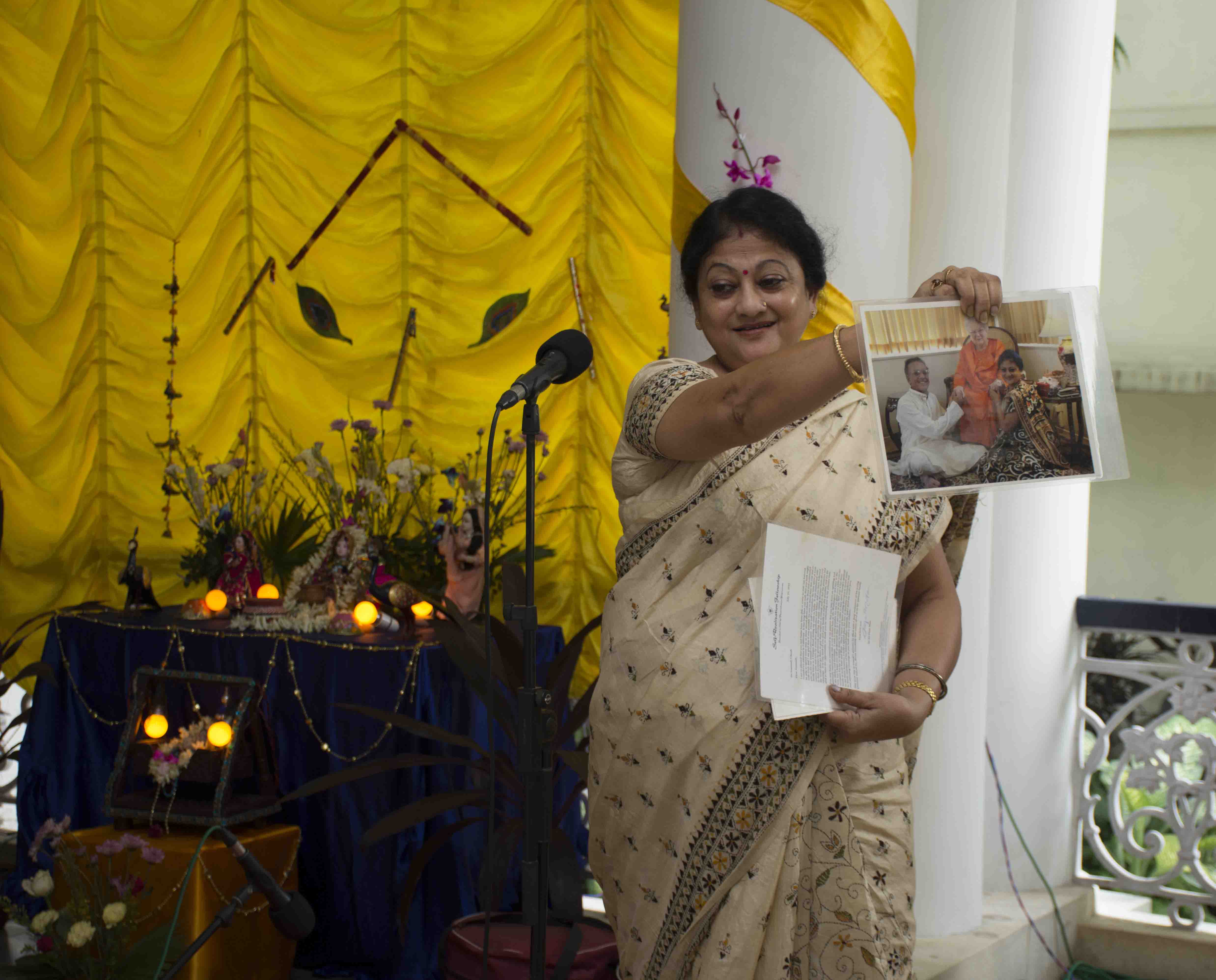 Smt.Sarita Ghosh spoke about the extraordinary ability of Sri Mrinalini Mataji to bring herself down to the level of the devotee and make the devotee feel at home in her presence. In fact, Ma arrived 15 mins before the stipulated time to meet them in the room in Mother Centre where Gurudeva met devotees. Smt Ghosh was pleasantly taken aback when Sri Mrinalini Mataji addressed her husband as Somnath Babu. Mrinalini Mataji later said she loves India very much and since they both came from India, she was honouring India through them. During their meeting with Mrinalini Mataji, the Ghosh couple were served with juice and ice cream topped with strawberry. It was learnt later that Mrinalini Mataji had taken special care to instruct the kitchen volunteers on how to prepare and serve the dishes.
Sri Raghavan Putran, a senior and long term devotee and Swami Nigamanandaji reminisced that when Sri Mrinalini Mataji came to India in one of her trips, during her visit to the Serampore Ashram she was going through the pages of Autobiography of a Yogi and suddenly went into Samadhi. It was several moments before she came out of it.
Smt Nivedita Dutta, daughter of Justice Dutta, said that though she could not meet Daya Mataji in person, this void was more than filled up by her meeting with Sri Mrinalini Mataji several times with her father.
Sri Raghunath Haldar, who has been the main Bengali translator of YSS books and magazines for decades had become emotional recalling his meeting with Sri Mrinalini Mataji.
Swami Nigamanandaji shared a few stories narrated by Dr. R.N. Ghosh, and Sri Rabi Karar in addition to some of his own. Swami Suddhanandaji concluded with a few reminiscences from his meeting with Sri Mrinalini Mataji especially in 1995 at Encinitas.
Later, guided by Swami Suddhanandaji and Swami Amaranandaji who held a white rose for the purity of spirit and a red rose for the pure love of the heart, the congregation sent out deepest vibrations of their heartfelt love, thankfulness and gratitude to Sri Mrinalini Mataji.
Toward the end of the memorial service, there was a quick spell of shower which echoed the auspiciousness of the momentous occasion, with the thunder clap saluting the end of a glorious innings.
Mahaprasad was served to all those present on the occasion.