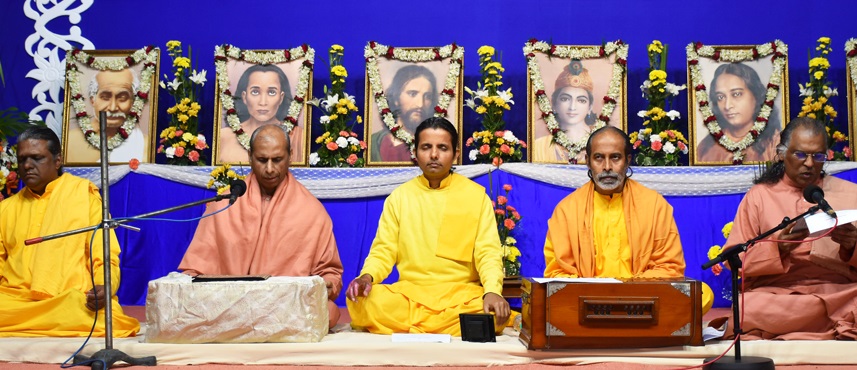 Janmotsav, the most cherished programme of the year, was celebrated at Dakshineswar with a lot of enthusiasm and joy. Read below to enjoy the program as it unfolded day by day, from 2nd Jan'17 to 7th Jan'17.
2nd Jan'17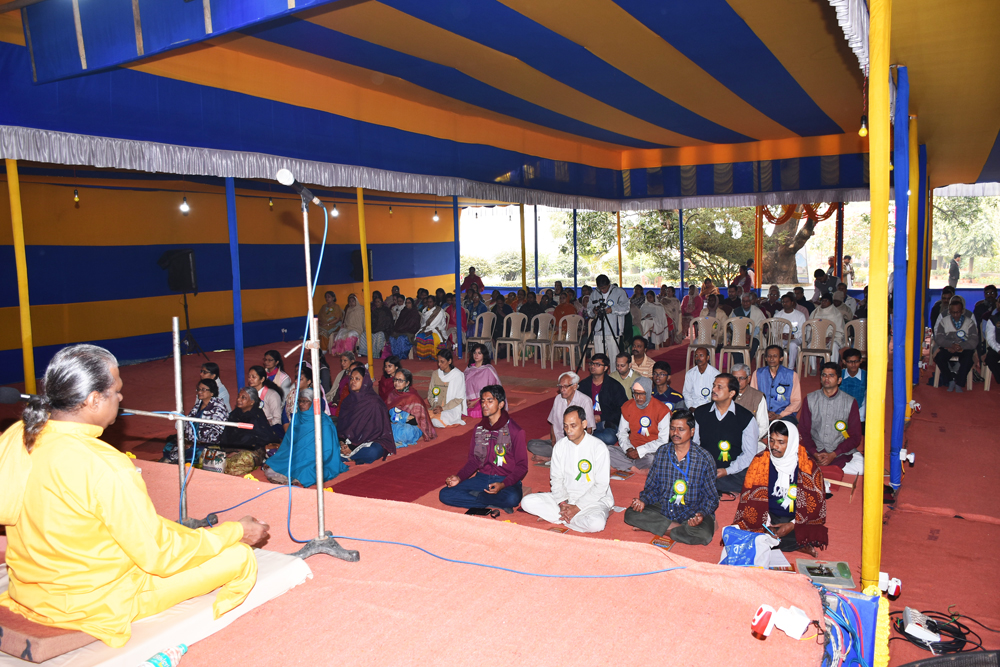 Review classes on basic techniques were held simultaneously in 3 languages – Bengali (in the main pandal), English (in the Dhyana Mandir), and Hindi (in the pandal behind Homeo Clinic).
Most of the devotees attended the classes in Bengali. Swami Smarananandaji gave a special Satsanga in the evening from 8 pm to 9 pm for all.
3rd Jan'17
A long meditation dedicated to our Gurudeva was held between 10 am to 4 pm and was attended by nearly 200 devotees. The stillness was heavenly!
The video of beloved Daya Mataji's visit to India was shown in the evening.
During the day Sw. Nigamanandaji and Br. Achyutanandaji participated in a press conference at the Garpar Kendra from 12 noon to 2 pm.
4th Jan'17
Beautiful flower decorations were done and preparations for seating and serving a very large number of people were done during the night prior to the Kriya Yoga Diksha.
Kriya Diksha was held on 4th January in which 37 devotees took the initiation and around 370 attended the ceremony. Again four hours flew just like that! Basking in the blessings of the Great Gurus, time was forgotten!
5th Jan'17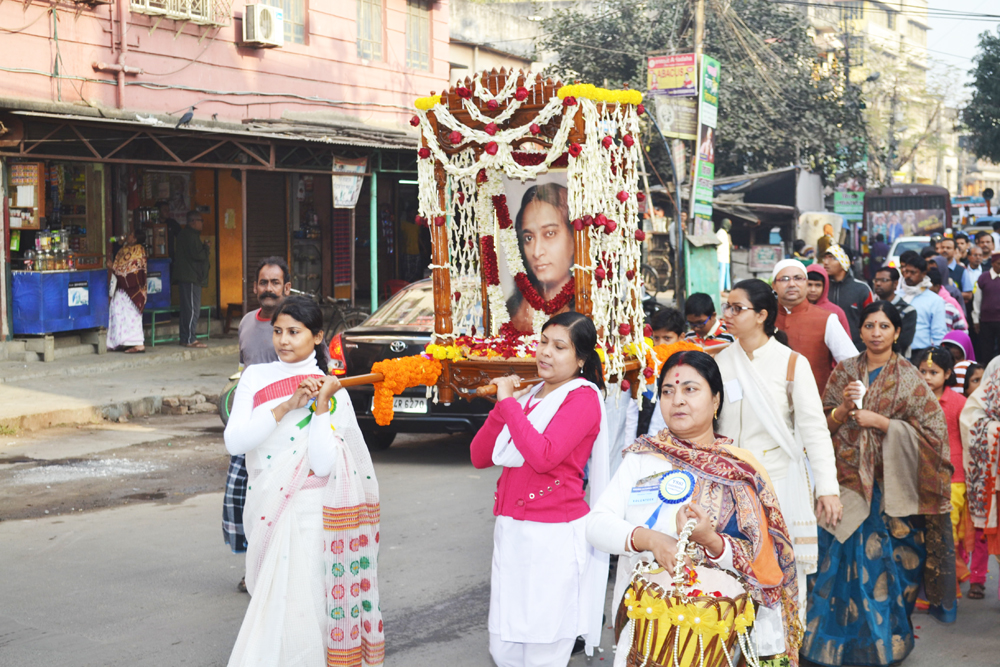 400 devotees joyously participated in the Prabhat Feri. (See attached picture). Bhajans started at 9:30 am, and then from 10 am to 12:30 pm a special programme in honour of YSS centenary was conducted. The General Secretaries of two reputed spiritual organizations in Dakshineswar – Mahamilan Math of Sitaramdas Omkarnathji & Sarada Math presided over the function, and spoke to the devotees on Guru-Disciple relationship stressing on the quality of surrender. As their talks were fully in Bengali, Swami Nigamanandaji who was also the master of ceremonies, translated the gist in English. Finally Swami Suddhanandaji narrated a couple of stories from Guruji's life, including those from Autobiography of a Yogi. Br. Achyutanandaji concluded with a vote of thanks. The participants included a few sadhus and also nearly 30 of Guruji's relatives. A special torch with 100 electric lamps and three wicks on top was lit in front of Guruji's photo.
This was followed by a Bhandara. About 2,000 people received prasad and relished it.
In the evening we had pushpanjali after meditation and then we lighted lamps celebrating the birth of Guruji. It seemed like an astral world. Over 250 devotees were given a sweet (Malpova) specially prepared and brought by the same devotee who did all the flower decorations Smt. Baisakhi Ghosh.
7th Jan'17
The programme started around 7:30 a.m. with Prabhat Feri from our Garpar Kendra. The route taken was via Ram Mohan Roy Road (stopping briefly at 4/2 and Nagendra Math), Circular Road, Vivekananda Road, Amherst Street (going up to Master Mahasaya's school at No. 50 and then turning back), Sukia Street and then to 4, Garpar Road. The Prabhat Feri ended at around 9 a.m. Nearly 250 participated. Sri Somnath Ghosh, grandson of Guruji's younger brother Sri Sananda Lal Ghosh also attended the programme accompanied by his family members. President and disciples of Nagendra Math also joined.
From 9:30 am, a public programme at Ram Mohan Roy Hall started with bhajans for 30 minutes. Swami Nigamanandaji gave the first talk for about half an hour and spoke about the history of the Garpar Kendra. Swami Suddhanandaji then gave a discourse for about an hour. The hall was overflowing, and several people could not be accommodated inside. All were given sumptuous lunch prasad packets.
Around 70 devotees joined the long meditation cum pushpanjali from 4 pm to 7:30 pm and the vibrations were divine and the stillness felt was so tangible!
At the same time, a programme was organized at Serampore. First a cultural programme by children of our Sunday school from 3:30 pm to 5 pm followed by group meditation from 6 pm to 7:30 pm which was attended by around 20 devotees. Br. Swarupanandaji led the meditation.
8th Jan'17
In Serampore, a procession in honour of our beloved Gurudeva, Prabhat Feri was taken out at around 8 am from Swami Sri Yukteswar's Smriti Mandir. It took nearly one and a half hour to complete. About 150 devotees and children participated, including devotees from Encinitas and Hollywood temples. The procession first went to Rai Ghat, and then to Serampore College, and came back via Buro Bibi Lane to the Smiriti Mandir.
Br. Achyutanandaji started singing bhajans at 9:45 am. Swami Nigamanandaji then spoke about Swami Sri Yukteswarji and Guruji during the years from 1910 onwards. This was followed by a talk by Swami Suddhanandaji on Autobiography of a Yogi and especially focused on Chapter 14 (An Experience in Cosmic Consciousness). Pandal and the Mandir areas were packed to their total capacity. Children were accommodated in Anandalok building with their guardians.
Prasad in the form of food packets was distributed to 600 devotees and to about 60 inmates of Cheshire home. In the evening from 4 pm to 7:30 pm we had long mediation cum pushpanjali in which about 50 devotees participated.
To sum up the programme in just a few words, tangible blessings and the grace of the Great Gurus were felt and experienced by one and all.