As part of the YSS Centenary Celebrations, Yogoda Satsanga Math, Dakshineswar conducted special written tests for students who passed out classes 10 and 12 examinations of 2017 under West Bengal Board by securing 60% or more marks to award a special one-time scholarship– 'Yogoda Satsanga Society of India Centenary Educational Scholarships'.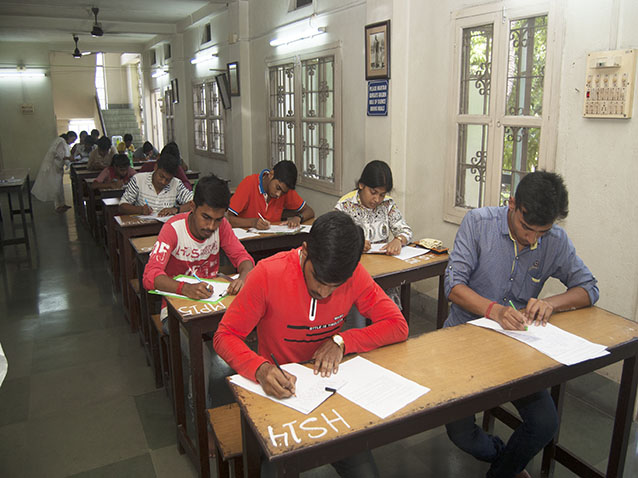 Students of various schools located around some pre-selected YSS Kendras/Centres of West Bengal participated in these tests which were conducted in July 2017. As a symbolic tribute to our Guruji starting YSS with 7 students at Dihika, we had done this in 7 places – Dihika, Dakshineswar, Serampore, Telary, Payaradanga, Sitibinda, and Kamarhati. Over 350 students took part in the examinations.
As preparation material for the test, Guruji's "Law of Success" was distributed amongthe students of Class 10 and the booklet "Increasing the Power of Initiative"was given to students of Class 12. Prior to conducting the tests while distributing the books at different Centers YSS monastics also visited those selected centers and gave talks along with slide show presentations to introduce students to YSS teaching in general and to the subject matter of the tests in particular. At Kamarhati students were asked to prepare from selected chapters of the Urdu Autobiography of a Yogi. In all, more than 500 students, who wanted to participate in these examinations, received a copy of the above mentioned books.
In a special programme organized on August 15 at the YSS Dakshineswar Ashram, this special Centenary scholarships were awarded to 35 students who did well in the written tests conducted earlier. A separate programme was conducted at Dihika on 25th August.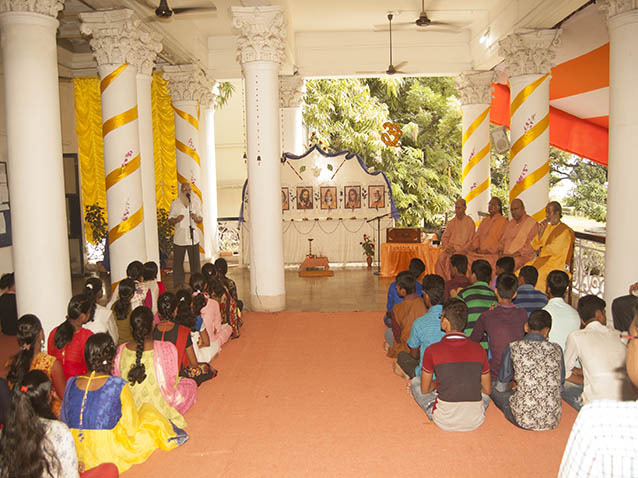 The well attended programme was inaugurated by Swami Suddhanandaji who lit the ceremonial lamp after which Swami Amaranandaji led a short and intense meditation service. Swami Nigamanandaji and Br. Achyutanandaji spoke on the occasion and explained how the YSS teachings were being embraced by people from all walks of life as a necessity for balanced and harmonious living.
Among the distinguished guests who were present and spoke on the occasion were: Sri Dibya Gopal Ghatak, Deputy Director Primary Education, Directorate of School Education, Govt. of West Bengal, Sri Avijit Saha, Asstt. Director Law, School Education Department, Govt. of West Bengal, and Sri NavinGhoshal, Councillor, Kamarhati Municipality, Govt. of West Bengal.
The students were presented with scholarships as cash awards by YSS monastics.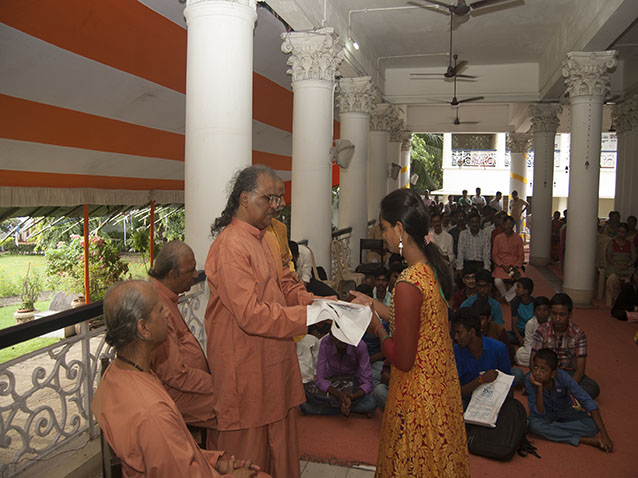 The eminent speakers unanimously underscored the emphasis laid by Gurudeva on all round development and the natural unfolding and flowering of the latent potential present in every student. They waxed eloquent onthe growing importance of the teachings of Gurudeva Paramahansa Yogananda and its relevance in today's world of insecurity and uncertainty.
Some of the students with impressive performances in written tests were also invited to speak on the occasion to share their experiences and understanding of Gurudeva's teachings. The depth of their understanding and particularly their insight into the practical implications of the teachings to their individual life as presented by them in their brief talks was appreciated by all.
Swami Suddhanandaji delivered the concluding address of the programme, elucidating the essentialities of how to manifest excellence in all spheres of life by strivingceaselessly to be in touch with the Divine.
Br. Achyutanandaji proposed the vote of thanks.