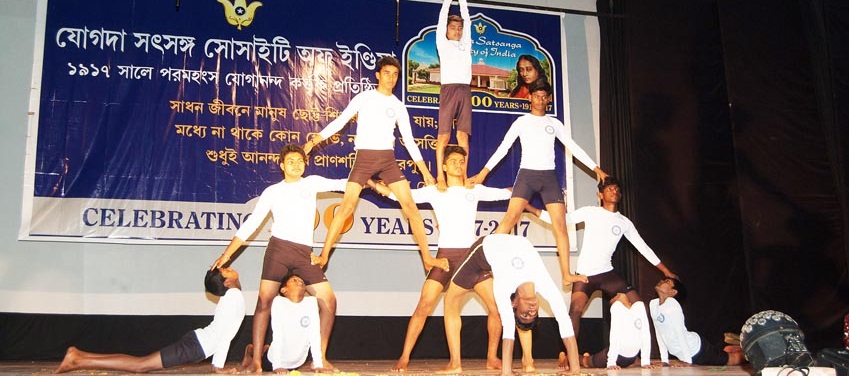 As part of the ongoing Yogoda Satsanga Society of India Centenary Celebrations, Dakshineshwar Ashram conducted a three day programme from April 7 to 9, 2017, for around 200 selected students and teachers from YSS educational instituions in West Bangal and Children Sunday Satsanga groups from Dakshineshwar Ashram and Yogoda Satsanga Dhyan Kendra- Telary.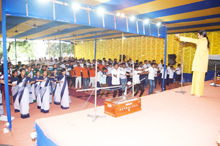 The programme included twice-daily group practice of Energization Exercises and meditation, satsanga on Gurudev's teachings, a quiz program based on Autobiography of a Yogi, series of competitions in three categories: group Cosmic Chants singing, recitation of one of Gurudeva's poems and elocution in Bengali on "The Relevance of the Teachings of Paramahansa Yogananda in Our daily Lives." Students and teachers participated in all these programmes with joyous enthusiasm.
The celebrations concluded with a special programme held at Nazrul manch Auditorium. This programme was graced by the presence of several local dignitaries- Sri Jyotirmoy Kar, the Hon'ble MLA from Potashpur(Purba Medinipur), Sri Avijit Saha, Chief of the Law Cell of Dept.of School Education, West Bengal, and Sri Gautam Seal, Technical Officer of Birla Industrial and Technological Museum(BITM), Kolkata.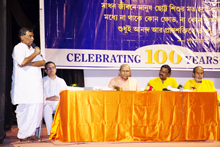 Speaking on the occassion, Sri Avijit Saha pointed out the necessity for making spirituality the foundation of the education system, while Sri Gautam Seal focused on the importance of sports and physical culture in the daily routine of students, in addition to their studies. Sri Jyotirmoy Kar emphasized the necessity of yoga for all-round development and growth of children. He said that through regular practice of the yogic discipline, such as the one given by Paramahansa Yoganandaji, it is possible to bring about a change in the mindset, aptitude, and predisposition of students at a very early age.
After the prize distribution, the celebration ended with a series of cultural programmes presented by students from YSS educational institutions in West Bengal. Devotion to God, social awareness, and cultural finesse combined together to create a magical April night of soulful offerings which regaled the audience and drew much applause.