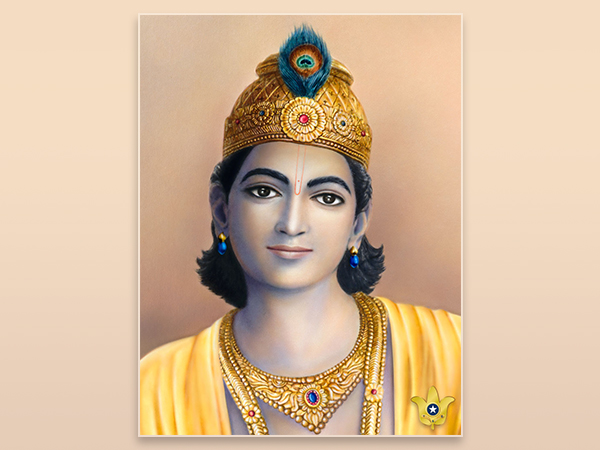 The sublime teachings of Lord Krishna are enshrined in the Bhagavad Gita. In his highly acclaimed two-volume commentary on the Gita, Paramahansa Yogananda has written:

"The Bhagavad Gita is the most beloved scripture of India, a scripture of scriptures. It is the... one book that all masters depend upon as a supreme source of scriptural authority....

"So comprehensive as a spiritual guide is the Gita that it is declared to be the essence of the ponderous four Vedas, 108 Upanishads, and the six systems of Hindu philosophy....The entire knowledge of the cosmos is packed into the Gita. Supremely profound, yet couched in revelatory language of solacing beauty and simplicity, the Gita has been understood and applied on all levels of human endeavour and spiritual striving — sheltering a vast spectrum of human beings with their disparate natures and needs. Wherever one is on the way back to God, the Gita will shed its light on that segment of the journey....

"Krishna is the divine exemplar of yoga in the East; Christ was chosen by God as the exemplar of God-union for the West....The Kriya Yoga technique, taught by Krishna to Arjuna and referred to in Gita chapters IV:29 and V:27–28, is the supreme spiritual science of yoga meditation. Secreted during the materialistic ages, this indestructible yoga was revived for modern man by Mahavatar Babaji and taught by the Gurus of Yogoda Satsanga Society of India/Self-Realization Fellowship."
Sri Krishna Janmashtami will be commemorated at Yogoda Satsanga Math — Dakshineswar on September 3, 2023.
The programme on this occasion will consist of meditation, satsanga, pushpanjali, and prasad.
Commemoration of

Place & Address

Date

Time

Sri Krishna
Janmashtami

Yogoda Satsanga Math —
Dakshineswar

September 3, 2023
(Sunday)

Timings to be shared closer to the date
Note: All these programmes will also be held in our Garpar, Serampore, and Telary centres and in other centres around West Bengal. For details regarding the date and time of the programmes, please contact the respective centres.
Please Note: All scheduled programmes are tentative. Kindly confirm before travelling to the ashram.
Yogoda Satsanga Math - Dakshineswar
21 U. N. Mukherjee Road
Dakshineswar 700 076
Dist. Kolkata, West Bengal
Phone: (033) 25645931, 25646208, 8420873743
Email: [email protected]